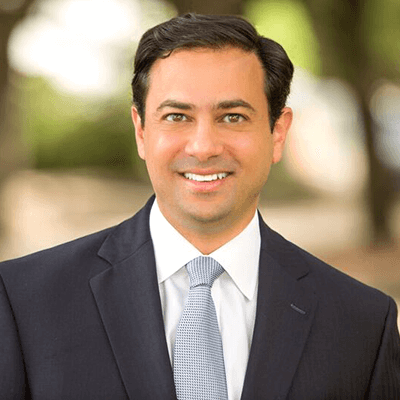 Partner, Hughes Arrell Kinchen LLP
A native Houstonian, Samy has fifteen years of experience handling criminal investigations, trials, and appeals in all areas of federal criminal law. As a former Assistant Federal Public Defender, Samy knows what it means to represent the interests of those accused or under investigation for a crime.
His cases have included grand jury investigations; bankruptcy and mortgage fraud; tax and health care fraud; money laundering; false statements; domestic and foreign bribery; immigration; firearm and drug violations; import-export sanctions; and mail and wire fraud. He also conducts corporate and internal investigations and handles select civil litigation, including False Claims Act cases. Samy has first-chaired numerous federal trials and argued multiple appeals before the US Court of Appeals for the Fifth Circuit. He has been recognized as a "Super Lawyer" and in Best Lawyers in America for White-Collar Criminal Defense.
Professional Background
Hughes Arrell Kinchen LLP, Partner, 2017-Present
Quinn Emanuel Urquhart & Sullivan LLP, Of Counsel, 2014-2017
Gerger & Clarke, Attorney, 2010-2014
Assistant Federal Public Defender, Southern District of Texas, 2003-2010
Fellow, Fair Trial Initiative (North Carolina), 2002-2003
Education
University of Texas School of Law, JD, 2002 (Member, Texas Law Review)
University of Chicago, MA in International Relations, with honors, 1999
Middlebury College, BA in Political Science, with honors, 1996 (Thomas J. Watson Fellow)
Representative Cases
Defense of a businessman in a Foreign Corrupt Practices Act investigation by DOJ concerning transactions in the Middle East.
Representation of a pharmacist under investigation for health care fraud by the US Attorney's Office in the Western District of Texas.
Civil DOJ investigation involving the hiring of "H2B" visa workers from Mexico.
In 2015/2016, Samy helped to win the dismissal of "manslaughter" charges arising from the BP Deepwater Horizon oil spill – partly on arguments that the "manslaughter" statute in question did not apply "extraterritorially", that is, not on a rig located in international waters, 50 miles offshore.
Defense of an Iranian businessman indicted under the US-Iran sanctions who received a Presidential Pardon in the 2016 "prisoner swap" over the "Iran nuclear deal".
In 2016, Samy won a rare dismissal of all charges in an indictment alleging "money laundering" concerning sales of perfume to Mexico. The federal court found a statute-of-limitations violation.
In SEC civil action, successful defense of Noble oil-drilling executive charged with violating the Federal Corrupt Practices Act in Nigeria.
In federal civil case, successful defense of KBR employees accused of major crimes at military-contractor base in Iraq.
Defense of the "IFCO" immigration-hiring case, resulting in the DOJ's dismissal of all felony charges against the company's Vice President for Human Resources.
Representation of major US companies in civil and criminal investigations by the Texas Attorney General's Office. One criminal investigation alleged bribery of state officials to secure a lucrative construction contract—no charges were brought. A civil case involved "consumer fraud" allegations by a major retailer of home goods.
Successful representation of individuals and businesses in white-collar investigations by the Harris County District Attorney's Office, including environmental and commercial bribery cases.
Internal investigation of federal employment-discrimination claims on behalf of national home-improvement company accused of violations by the EEOC.
Dismissal of numerous federal criminal cases after filing "motions to suppress" evidence.
Acquittal in federal prosecution charging assault by airplane passenger.
Clemency petition on behalf of federal defendant who received 20-year mandatory minimum sentence. In 2016, the President of the United States granted clemency, and the sentence will now expire after completion of a one-year residential drug treatment program.
Federal and state habeas appeal of Texas death-penalty case—Samy has uncovered hidden evidence and is litigating for a new trial.
Publications & Awards
Recognized as a leading practitioner in Best Lawyers in America for White-Collar Criminal Defense (2016, 2017)
Recognized as a "Super Lawyer" (2017) and a "Rising Star" (2013, 2014) in White-Collar Criminal Defense, Super Lawyers
Samy has given presentations on white-collar crime, particular federal offenses, and various aspects of federal sentencing. In 2016, he presented on the DOJ's "Yates Memo" at the National Association of Criminal Defense Lawyers' "White-Collar Conference"
Samy has published "Doing the Impossible: Appellate Reweighing of Harm and Mitigation in Capital Cases After Williams v. Taylor, With a Special Focus on Texas", Texas Law Review (2001)
Professional Activities
Federal Bar Association
National Association of Criminal Defense Lawyers
Fellow, Texas Bar Foundation
Board Member, Texas Defender Service
Chair, Magistrate Judge Merit Selection Panel, Southern District of Texas (2017)
Admissions
State Bar of Texas
State Bar of North Carolina (currently inactive)
United States Court of Appeals for the Fifth Circuit
United States District Court: Southern District of Texas, Western District of Texas