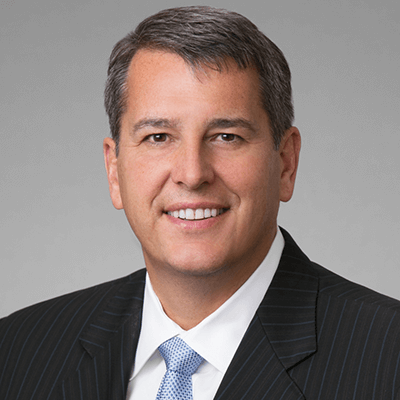 Partner, Hughes Arrell Kinchen LLP
Mark has extensive experience across a variety of industries. He advises clients in most general business areas and has particular expertise in mergers and acquisitions, and capital-raising transactions.
Until 2003, Mark was a partner in the corporate and securities section of Thompson & Knight, LLP. He began his career as a tax professional in the international tax/mergers & acquisitions section of Arthur Andersen, LLP. His practice consists of an equal mix of transactions (mergers/acquisitions, capital-raising transactions, etc.) and general day to day legal advice, including contract negotiation, employment issues and commercial transaction advice and counseling. Mark acts as outside general counsel to several clients in industries such as energy, technology, industrial services, retail and food service.
Professional Background
Hughes Arrell Kinchen LLP, Partner, 2003-Present.
Thompson & Knight, LLP, Associate 1995-2001, Partner 2001-2003.
Arthur Andersen, LLP, 1994-1995, International Tax and Mergers & Acquisitions.
Education
University of Texas School of Law. JD, 1994.
University of Texas at Austin. BBA – Accounting, 1991.
RECENT REPRESENTATIVE ENGAGEMENTS
Mergers & Acquisitions
Represented NY-based private equity fund focused on the healthcare technology enabled services industry in completion of 3 successive acquisitions over an 18 month period (valued collectively at approximately $21 million) followed by an exit transaction valued at over $85 million payable 50% in cash and 50% in rollover equity.
Represented Austin-based software company focused on process management products and services for large insurance carriers, real estate companies and government agencies in sale to Fortune 500 company in a transaction valued at approximately $25 million.
Represented various portfolio companies of a private equity fund with more than $1B under management in multiple add-on acquisitions ranging in size from $3 million to $40 million.
Represented wastewater services company in roll-up of two wastewater services companies in a transaction involving rollover equity for continuing management teams and creation of "profits interest" incentive pool.
Represented oilfield services company in a two year growth initiative involving 12 acquisitions (aggregate purchase price in excess of $100mm). During this period, the client grew from under 100 employees to over 4,000.
Represented specialty tubular connections company in sale of assets to major multinational pipe manufacturer in exchange for cash, earn out and royalty payments on future sales.
Represented SaaS security software company in acquisition of equity of Danish web application firewall company.
Represented oilfield tool manufacturer in several acquisitions of complementary product manufacturers each involving concurrent senior credit facility with Wells Fargo, N.A. and/or equity infusions to fund such acquisition.
Capital-Raising Transactions
Represented wastewater services company in $3 million equity bridge transaction followed by senior and subordinated debt transactions in excess of $24 million.
Represented healthcare technology enabled services company in 3 successive senior and subordinated debt transactions over an 18 month period of $3 million, $5 million and $12 million collectively, utilized to effect concurrent acquisitions.
Represented SaaS security software company in $12.5 million Series E preferred stock funding by venture capital investors.
Represented industrial services company in concurrent $17 million senior debt financing by commercial bank and $7 million subordinated debt financing by venture capital investor.
Represented oilfield services company in initial credit facility followed by several increases in available credit and creation of acquisition line of credit involving major amendments and syndication of credit facility. During this period, the credit facility was increased from $5mm to over $500 million.
Represented action ski film production company in an equity investment transaction to enable new investors to provide capital to expand product offering.
Represented wastewater services company in initial equity placement of approximately $18 million in common equity and concurrent $17.5mm term loan, $2.5 million draw to credit loan and $4mm line of credit to enable funding of acquisition and working capital.
Represented Houston's first micro-distillery in various capital raising transactions ranging from equity private placements to lending and other bridge financing transactions.
Executive Compensation
Represented CEO of Fortune 500 technology company with negotiation of entire compensation package and related agreements.
Represented CFO of Fortune 500 technology company with separation and release agreements and related aspects of departure, followed by employment agreement and restricted stock agreement at subsequent employer.
Represented CFO of publicly traded oilfield service company with employment agreement, change of control agreement and terms of restricted stock grant.
Represented multiple C-level executives of equity-backed private companies in negotiation of employment agreements, equity grants, negotiated departure and severance agreements and various other compensation related matters.
General Counsel Engagements
Serve as outside general counsel to several venture-funded energy companies, including oilfield supply company, specialty fluids company, deepwater rig construction company and drilling tool company.
Serve as outside general counsel to several venture-funded technology companies, including Security as-a Service software provider, storage software provider and cloud infrastructure software provider.
Joint Venture & Partnership Negotiations
Represented private equity-funded waste processing company in joint venture with Fortune 500 waste management company to commercialize waste-to-energy processing concept.
Represented franchised taco restaurant in establishment of joint venture for proliferation of franchises in the Houston area.